This post is part of the 📖 1-Page Marketing Plan series.
Today, I am reading the section Manufacturing Trust from SALES CONVERSION chapter of the book The 1-Page Marketing Plan written by Author, serial entrepreneur and rebellious marketer Allan Dib.
Info! 💬
By reading this book
The 1-Page Marketing Plan
, Whether you're just starting out or are an experienced entrepreneur, The 1-Page Marketing Plan is the easiest and fastest way to create a marketing plan that will propel your business growth. It's literally a single page, divided up into nine squares. With it, you'll be able to map out your own sophisticated marketing plan and go from zero to marketing hero.
Yesterday, I read some sections of Transitioning from Pest to Welcome Guest chapter of the book.
Tomorrow, I am going to read a section Pricing Strategy from the SALES CONVERSION chapter of the book. Look out for tomorrow's article.
Manufacturing Trust
It's increasingly important to present your business in a way that conveys trust and confidence.
There are some aspects that can signal your prospect that you are NOT a trustworthy person or a company.
Website:
No phone number is listed on your website.
A P.O Box address or no address is listed instead of a proper physical business address.
No privacy policy and/or terms of use.
The design is bad or cheap-looking.
Email address:
Being a business, you should always use yourname @ yourcompany.com, and it is astonishing to see some business use Hotmail or Gmail, which creates untrustworthiness and is not at all healthy for your business.
Who looks more trustworthy: [email protected] gmail.com or [email protected] company.com?
CRM and Ticketing system to deal with customer support or enquiries can help you build trust with your customers.
These are just a few of the tools that can help you fight the trust bias that disadvantages small businesses.
Using these tools, you can punch above your weight and present yourself as a professional organization, even if you're just starting.
Outrageous Guarantees
Potential ice cream buyers hold up a queue of people behind them while they taste test several flavours with tiny plastic spoons.
All this is to ensure that the flavour of ice cream they finally commit to buying doesn't disappoint.
Risk reversal in the form of an outrageous guarantee means that if the product or service doesn't work out for the prospect, you're the one who'll have something to lose rather than them.
Risk reversal should be more powerful than lame like "money-back guarantee" or "satisfaction guaranteed". You need to have an easier path to a sale than offering a simple guarantee.
Author Allan Dib explained the risk reversal with many examples in the book. Please consider buying the book The 1-Page Marketing Plan from Amazon.
A robust and results-oriented guarantee will also drive you to deliver a great customer experience. This alone ensures that it's worthwhile to have a strong guarantee.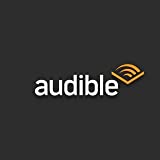 Do you know you can listen to this book on Amazon Audible for FREE?
If you are not into reading like me, then you can listen to this book for FREE on Amazon Audible
Don't Read. Just 🎧
Key Takeaways
Having systems in place like a ticketing system, CRM software, a clean website with phone numbers will increase your likelihood of building trust with your prospect.

A strong, results-oriented guarantee will also drive you to deliver a great customer experience. This alone ensures that it's worthwhile to have a strong guarantee.
Summary
You can manufacture trust by having systems in place. There are plenty of SAAS tools available to look like a professional business from the get-go.
While these tools are not a replacement for having great products and service, they can help you manage perception.
A smart entrepreneur will look at their business from the eyes of a fearful, sceptical prospect and reverse all the perceived risks so that the path to the sale is much smoother.
---
In this groundbreaking new book you'll discover:
How to get new customers, clients or patients and how to make more profit from existing ones.

Why "big business" style marketing could kill your business and strategies that actually work for small and medium-sized businesses.

How to close sales without being pushy, needy, or obnoxious while turning the tables and having prospects begging you to take their money.

A simple step-by-step process for creating your own personalized marketing plan that is literally one page. Simply follow along and fill in each of the nine squares that make up your own 1-Page Marketing Plan.

How to annihilate competitors and make yourself the only logical choice.

How to get amazing results on a small budget using the secrets of direct response marketing.

How to charge high prices for your products and services and have customers actually thank you for it.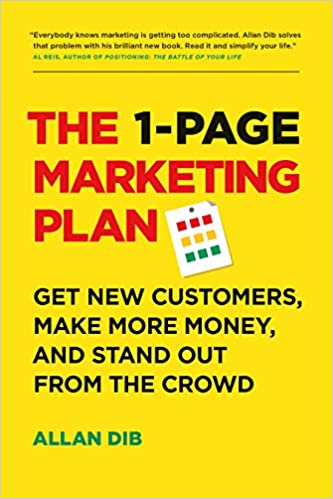 Author(s): Allan Dib
Short Blurb: "To build a successful business, you need to stop doing random acts of marketing and start following …
Read more
Buy from Amazon
---
Part 23 of 36 in the 📖 1-Page Marketing Plan book series.
Series Start | The 1-Page Marketing Plan - Day 22 | The 1-Page Marketing Plan - Day 24
---
Amazon Associates Disclaimer! 💬
As an Amazon Associate, I earn from qualifying purchases. I make a tiny commission if you buy using one of the links above at no additional cost to you. I use the money to buy another book 📖 to review or grab a beer 🍺 Super duper thanks 🙌