This post is part of the 📖 1-Page Marketing Plan series.
Today, I am reading the section The Ultra-High-Ticket Item from SALES CONVERSION chapter of the book The 1-Page Marketing Plan written by Author, serial entrepreneur and rebellious marketer Allan Dib.
Info! 💬
By reading this book
The 1-Page Marketing Plan
, Whether you're just starting out or are an experienced entrepreneur, The 1-Page Marketing Plan is the easiest and fastest way to create a marketing plan that will propel your business growth. It's literally a single page, divided up into nine squares. With it, you'll be able to map out your own sophisticated marketing plan and go from zero to marketing hero.
Yesterday, I read some sections of Pricing Strategy from SALES CONVERSION chapter of the book.
Tomorrow, I am going to read a new chapter The After Phase from the book. Look out for tomorrow's article.
The Ultra-High-Ticket Item
In every market, there is a small percentage of the population who wants to buy "the best" variant of a product in its class.
You may not sell these high-ticket products/services every day of the week. If you don't make them available among your normal product mix, then you are leaving the money on the table.
A big benefit of the ultra-high-ticket item is that it makes the other variations in your product range look much more reasonably priced by comparison.
Often 10% of your customer base would pay ten times more and 1% of your customers would pay 100 times more — Allan Dib
Resist the Urge to Discount
Unless you have a very specific loss leader strategy, try to avoid discounting at all costs.
Instead of offering discounts, consider bundling in bonuses and/or increasing quantities and/or adding peripheral services can be of genuine value to your customer.
Invite Them to Try Before They Buy
As a business owner, you should make it abundantly clear to all staff that sales are the lifeblood of the business and that everyone is in sales.
The author Allan Dib provided an excellent personal experience. He described how a local BMW sales rep squandered a perfect opportunity to sell a next model BMW to the author Allan Dib. A must-read story and a great takeaway to all the businesses in the world.
Try before you buy is the most powerful ways to win more business.
Close Down Your Sales Prevention Department
Signs that say "Cash Only" or "$ 10 Minimum for Credit Cards" or "We Don't Accept Amex" is the sales prevention department at work.
These businesses may be saving money on merchant fees but are almost certainly losing far more in terms of lost sales, lost customers and lost goodwill.
They're stepping over dollars to pick up pennies.
Chapter 6 Action Item:
What Is Your Sales Conversion System?
Fill in square #6 of your 1-Page Marketing Plan canvas.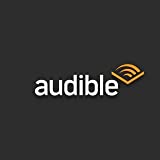 Do you know you can listen to this book on Amazon Audible for FREE?
If you are not into reading like me, then you can listen to this book for FREE on Amazon Audible
Don't Read. Just 🎧
Key Takeaways
These ultra-high-ticket items can make up a considerable percentage of your net profit, even if you only sell a small number of units.

Ultra-high-ticket will also help you attract a more affluent customer.

The easiest sale to make is to an existing satisfied customer.
Summary
Make sure you're not leaving money on the table by not having ultra-high-ticket items in your product mix.
As a business owner, you should make it abundantly clear to all staff that sales are the lifeblood of the business and that everyone is in sales.
Look for other things that could be roadblocks to sales conversion like fill in lengthy forms or conform to processes that aren't necessary etc.
---
In this groundbreaking new book you'll discover:
How to get new customers, clients or patients and how to make more profit from existing ones.

Why "big business" style marketing could kill your business and strategies that actually work for small and medium-sized businesses.

How to close sales without being pushy, needy, or obnoxious while turning the tables and having prospects begging you to take their money.

A simple step-by-step process for creating your own personalized marketing plan that is literally one page. Simply follow along and fill in each of the nine squares that make up your own 1-Page Marketing Plan.

How to annihilate competitors and make yourself the only logical choice.

How to get amazing results on a small budget using the secrets of direct response marketing.

How to charge high prices for your products and services and have customers actually thank you for it.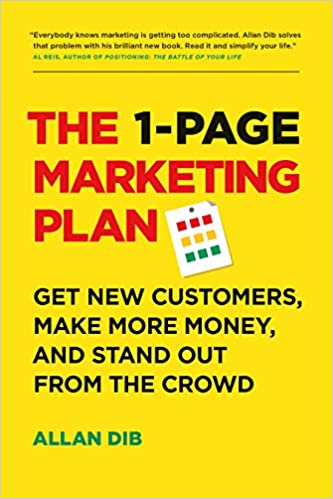 Author(s): Allan Dib
Short Blurb: "To build a successful business, you need to stop doing random acts of marketing and start following …
Read more
Buy from Amazon
---
Part 25 of 36 in the 📖 1-Page Marketing Plan book series.
Series Start | The 1-Page Marketing Plan - Day 24 | The 1-Page Marketing Plan - Day 26
---
Amazon Associates Disclaimer! 💬
As an Amazon Associate, I earn from qualifying purchases. I make a tiny commission if you buy using one of the links above at no additional cost to you. I use the money to buy another book 📖 to review or grab a beer 🍺 Super duper thanks 🙌