This post is part of the 📖 1-Page Marketing Plan series.
Today, I am reading a new section Building Your Tribe of Raving Fans from Delivering a World-Class Experience chapter of the book The 1-Page Marketing Plan written by Author, serial entrepreneur and rebellious marketer Allan Dib.
Info! 💬
By reading this book
The 1-Page Marketing Plan
, Whether you're just starting out or are an experienced entrepreneur, The 1-Page Marketing Plan is the easiest and fastest way to create a marketing plan that will propel your business growth. It's literally a single page, divided up into nine squares. With it, you'll be able to map out your own sophisticated marketing plan and go from zero to marketing hero.
Yesterday, I read some sections of The Ultra-High-Ticket Item from SALES CONVERSION chapter of the book.
Tomorrow, I am going to read a new section Use Technology To Reduce Friction from the Delivering A World-class Experience chapter of the book. Look out for tomorrow's article.
ACT III
The After Phase
The "After" Phase Section Summary
The goal of this final phase is to get your customers to trust you and buy more from you. This phase continues in an ongoing "virtuous cycle" where you deepen your relationship with customers, do more business with them and get more referrals.
Delivering a World-class Experience
Chapter 7 Summary
By delivering a world-class experience, you turn customers into a tribe of raving fans who want to buy from you repeatedly. To provide this world-class experience, you need to implement systems in your business and make smart use of technology.
Highlights covered in this chapter include:
Why building a tribe of raving fans is crucial to your business success and how to do it.
The two critical functions of your business.
How to innovate, even when the product or service you sell is dull and ordinary.
The purpose of technology in your business and how to leverage this in your marketing.
Why systems are the key to uncovering a fortune that lies hidden in your business.
The four main systems in your business that virtually guarantee your business success.
How to eliminate the biggest bottleneck in your business
Building Your Tribe of Raving Fans
One of the things that separate extraordinary businesses from ordinary ones is that they lead tribes, tribes of raving fans—not just customers.
As a small business, you have a massive advantage to build a raving fanbase.
Sell Them What They Want but Give Them What They Need
A big part of the battle you'll fight is getting people to do what they need to do to achieve results with your product or service.
It's going to mean you need to spoon-feed them through the process of getting results. Otherwise, you're in a low margin, commodity, transaction-style business competing solely on price.
So, your job is to find a way to sell what your prospects want but also to give them what they need.
Create Theater around Your Products and Services
Your customers don't just want to be serviced. They want to be entertained.
A common misconception is that the innovation has to be in the actual product or service itself.
Innovation can be applied to how the product is priced, financed, packaged, supported, delivered, managed, marketed or a myriad of other elements related to any part of the customer experience — Allan Dib
Checkout a superb example presented in the book by the author below:
Blendtec is a manufacturer of blenders, ordinary blenders like the type you would use in your kitchen at home. They've created an enormous viral marketing buzz by making a YouTube video series called Will It Blend? Where they have a wacky-looking scientist demonstrate their product by blending a variety of weird objects from iPhones and iPads to golf balls.
There are plenty of examples in the book for every section. It is not possible or ethical to reproduce all the brilliant examples here, so please consider buying your copy from the Amazon.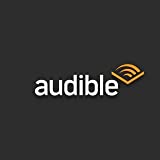 Do you know you can listen to this book on Amazon Audible for FREE?
If you are not into reading like me, then you can listen to this book for FREE on Amazon Audible
Don't Read. Just 🎧
Key Takeaways
In your business, a tribe member is a special type of customer. One that acts as a cheerleader and is actively conspiring for your success.
Summary
Helping your customers all the way through to achieving results will have a big payoff for both you and them.
Do anything other than stay a boring commodity, which forces you to compete solely on price.
---
In this groundbreaking new book you'll discover:
How to get new customers, clients or patients and how to make more profit from existing ones.

Why "big business" style marketing could kill your business and strategies that actually work for small and medium-sized businesses.

How to close sales without being pushy, needy, or obnoxious while turning the tables and having prospects begging you to take their money.

A simple step-by-step process for creating your own personalized marketing plan that is literally one page. Simply follow along and fill in each of the nine squares that make up your own 1-Page Marketing Plan.

How to annihilate competitors and make yourself the only logical choice.

How to get amazing results on a small budget using the secrets of direct response marketing.

How to charge high prices for your products and services and have customers actually thank you for it.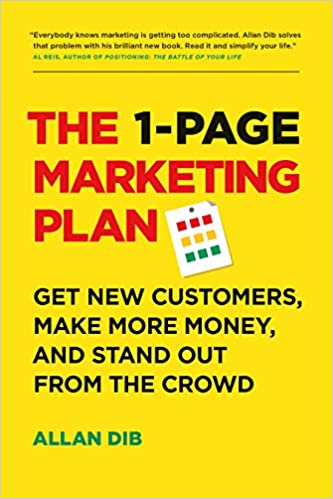 Author(s): Allan Dib
Short Blurb: "To build a successful business, you need to stop doing random acts of marketing and start following …
Read more
Buy from Amazon
---
Part 26 of 36 in the 📖 1-Page Marketing Plan book series.
Series Start | The 1-Page Marketing Plan - Day 25 | The 1-Page Marketing Plan - Day 27
---
Amazon Associates Disclaimer! 💬
As an Amazon Associate, I earn from qualifying purchases. I make a tiny commission if you buy using one of the links above at no additional cost to you. I use the money to buy another book 📖 to review or grab a beer 🍺 Super duper thanks 🙌