This post is part of the 📖 1-Page Marketing Plan series.
Today, I am reading a new section Products Make You Money, Systems Make You a Fortune from Delivering a World-Class Experience chapter of the book The 1-Page Marketing Plan written by Author, serial entrepreneur and rebellious marketer Allan Dib.
Info! 💬
By reading this book
The 1-Page Marketing Plan
, Whether you're just starting out or are an experienced entrepreneur, The 1-Page Marketing Plan is the easiest and fastest way to create a marketing plan that will propel your business growth. It's literally a single page, divided up into nine squares. With it, you'll be able to map out your own sophisticated marketing plan and go from zero to marketing hero.
Yesterday, I read some sections of Use Technology to Reduce Friction from Delivering a World-Class Experience chapter of the book.
Tomorrow, I am going to read a new section Your Ultimate Customer from the Delivering A World-class Experience chapter of the book. Look out for tomorrow's article.
Products Make You Money, Systems Make You a Fortune
The most valuable business systems are those which are replicable.
"Systems allow mere mortals to run an extraordinary business." - Allan Dib
Once you have the systems in place, then money will come in many forms, but the most common are:
Customers wanting to do business with you because you deliver consistent results
Licensees wanting to license your system
Franchisees who want to buy into your franchise system
An investor or competitor wanting to buy out your business
Regardless of what business you run, here are four main types of business systems you need to create:
Marketing system: generate a consistent flow of leads into the business
Sales system: lead nurturing, follow-up and conversion
Fulfilment system: the actual thing you do in exchange for the customer's money
Administration system: accounts, reception, human resources and so on; support of all the other business functions
Even though you have admin and fulfilment systems in place, the most important system is your marketing and sales systems. If they aren't in place, prospects will never buy in the first place and find out how good you are.
There are numerous benefits to implementing systems in your business. Here are some of the most important.
It builds a valuable asset.
Leverage and scalability.
Consistency.
Lower labour costs.
The Power of Systems—The Ability to Fire Yourself
Do you think your business still be there if you left your business for 6 months and come back?
Would you even have a business left to come back to?
If you answered in the negative to either of these questions, then it's likely you don't have a business—rather you ARE the business.
Our goal is to eliminate the biggest bottleneck from your business—YOU.
Perform these steps:
Identify all the roles in your business
Define what tasks each role performs
Create checklists for properly completing these tasks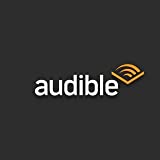 Do you know you can listen to this book on Amazon Audible for FREE?
If you are not into reading like me, then you can listen to this book for FREE on Amazon Audible
Don't Read. Just 🎧
Key Takeaways
Customers don't find out how good your products and services are until they have bought from you.
Summary
Build systems to make your life easier. You need to build four types. Once you establish your system, then you should think about eliminating yourself from your day to day activities.
Your job as an entrepreneur is to be an innovator and a builder of systems. Even if you are a sole operator right now, it's important to think long term and think big.
---
In this groundbreaking new book you'll discover:
How to get new customers, clients or patients and how to make more profit from existing ones.

Why "big business" style marketing could kill your business and strategies that actually work for small and medium-sized businesses.

How to close sales without being pushy, needy, or obnoxious while turning the tables and having prospects begging you to take their money.

A simple step-by-step process for creating your own personalized marketing plan that is literally one page. Simply follow along and fill in each of the nine squares that make up your own 1-Page Marketing Plan.

How to annihilate competitors and make yourself the only logical choice.

How to get amazing results on a small budget using the secrets of direct response marketing.

How to charge high prices for your products and services and have customers actually thank you for it.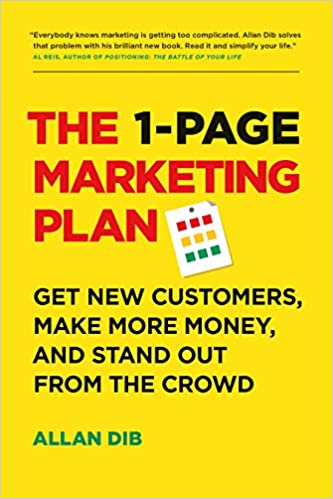 Author(s): Allan Dib
Short Blurb: "To build a successful business, you need to stop doing random acts of marketing and start following …
Read more
Buy from Amazon
---
Part 28 of 36 in the 📖 1-Page Marketing Plan book series.
Series Start | The 1-Page Marketing Plan - Day 27 | The 1-Page Marketing Plan - Day 29
---
Amazon Associates Disclaimer! 💬
As an Amazon Associate, I earn from qualifying purchases. I make a tiny commission if you buy using one of the links above at no additional cost to you. I use the money to buy another book 📖 to review or grab a beer 🍺 Super duper thanks 🙌