This post is part of the 📖 1-Page Marketing Plan series.
Today, I am reading a new section Ascension from Incresing Customer Lifetime Value chapter of the book The 1-Page Marketing Plan written by Author, serial entrepreneur and rebellious marketer Allan Dib.
Info! 💬
By reading this book
The 1-Page Marketing Plan
, Whether you're just starting out or are an experienced entrepreneur, The 1-Page Marketing Plan is the easiest and fastest way to create a marketing plan that will propel your business growth. It's literally a single page, divided up into nine squares. With it, you'll be able to map out your own sophisticated marketing plan and go from zero to marketing hero.
Yesterday, I read some sections of Acres of Diamonds from Delivering a World-Class Experience chapter of the book.
Tomorrow, I am going to read a new section Numbers Tell Us the Whole Story from Delivering a World-Class Experience chapter the book. Look out for tomorrow's article.
Ascension
Ascension is the process of moving existing customers to your higher-priced, and hopefully higher-margin, products and services.
Ascension campaigns help you combat inertia and can prevent customers from switching to a competitor.
It may well be their fault for choosing that cheap option years ago, but it's your fault and your problem if you lose them because you weren't proactive enough to keep up with their needs.
Frequency
Increasing the frequency with which your customers buy from you is another solid strategy for increasing lifetime value.
Reminders
People live busy lives. They don't always remember to do things in a timely manner even when it's of benefit to them.
Send reminders by post, email or SMS to remind them to do business with you again.
Give them a reason to come back
The author described an excellent story of his own experience. He and his wife spent a fortune in a shoe store where they the store cashier handed his wife a $30 voucher after spending $100 to use against any future purchases which author's wife dragged him to come back to buy a pair of shoes for the author.
Help them repeatedly buy with subscriptions
The Dollar Shave Club turned cheap disposable razor blades into a subscription service. Allen Dib, the author says, a big heavy bag of dog food now arrives automatically on his doorstep every six weeks.
If you're delivering extra value in the way of convenience, your customers likely won't even care that you're charging them more.
Reactivation
You can run some great reactivation campaign themes, and headlines are "We Miss You" or "Have We Done Something Wrong?" You can then describe to them how you've noticed they haven't bought from you in a while and you'd love to have them back and show them how special they are to you. You get the idea.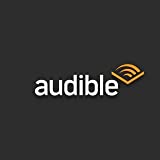 Do you know you can listen to this book on Amazon Audible for FREE?
If you are not into reading like me, then you can listen to this book for FREE on Amazon Audible
Don't Read. Just 🎧
Key Takeaways
Having only one option means that you're leaving huge sums of money on the table. At a minimum, you need to have a "standard" and a premium option in each category.
The sending of regular reminders can be fully automated, so take advantage of technology to do some of the heavy liftings for you.
Summary
Use Ascension to upgrade your customers to your higher-priced products. Increasing the frequency with which your customers buy from you. Send reminders. Introduce subscription facility in your products and services.
---
In this groundbreaking new book you'll discover:
How to get new customers, clients or patients and how to make more profit from existing ones.

Why "big business" style marketing could kill your business and strategies that actually work for small and medium-sized businesses.

How to close sales without being pushy, needy, or obnoxious while turning the tables and having prospects begging you to take their money.

A simple step-by-step process for creating your own personalized marketing plan that is literally one page. Simply follow along and fill in each of the nine squares that make up your own 1-Page Marketing Plan.

How to annihilate competitors and make yourself the only logical choice.

How to get amazing results on a small budget using the secrets of direct response marketing.

How to charge high prices for your products and services and have customers actually thank you for it.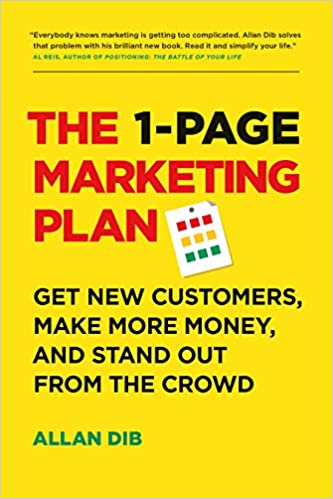 Author(s): Allan Dib
Short Blurb: "To build a successful business, you need to stop doing random acts of marketing and start following …
Read more
Buy from Amazon
---
Part 31 of 36 in the 📖 1-Page Marketing Plan book series.
Series Start | The 1-Page Marketing Plan - Day 30 | The 1-Page Marketing Plan - Day 32
---
Amazon Associates Disclaimer! 💬
As an Amazon Associate, I earn from qualifying purchases. I make a tiny commission if you buy using one of the links above at no additional cost to you. I use the money to buy another book 📖 to review or grab a beer 🍺 Super duper thanks 🙌