This post is part of the 📖 1-Page Marketing Plan series.
Today I am reading SELECTING YOUR TARGET MARKET chapter of the book The 1-Page Marketing Plan written by Author, serial entrepreneur and rebellious marketer Allan Dib.
Info! 💬
By reading this book
The 1-Page Marketing Plan
, Whether you're just starting out or are an experienced entrepreneur, The 1-Page Marketing Plan is the easiest and fastest way to create a marketing plan that will propel your business growth. It's literally a single page, divided up into nine squares. With it, you'll be able to map out your own sophisticated marketing plan and go from zero to marketing hero.
ACT 1
THE "BEFORE" PHASE
The "Before" Phase Section Summary
In this phase, you are dealing with prospects. Prospects are people who may not even yet know you exist.
In this phase, you will identify a target market and deliver your message to them through advertising media.
SELECTING YOUR TARGET MARKET
Highlights covered in this chapter include:
Why targeting everyone with your product or service is a terrible idea
Why mass marketing can be harmful to your business and cost you far more than it makes you
How to use the "PVP index" to select your perfect target market
And many many more.
Selecting your Target Market
It's not everyone.
We will see why excluding customers is actually a good thing.
To be a successful small business marketer, you need a laser-like focus on a narrow target market, sometimes called a niche.
Niching—Harnessing the Power of Focus
You have to niche down or else:
You have a limited amount of money. If you focus too broadly, your marketing message will become diluted and weak.

The other critical factor is relevance. The goal of your ad is for your prospects to say, "Hey that's for me."
"Targeting a tight niche allows you to become a big fish in a small pond. It will enable you to dominate a category or geography in a way that is impossible by being general" — Allan Dib.
Niche Makes Price Irrelevant
A specialist is sought after rather than shopped on price. A specialist is much more highly respected than a jack-of-all-trades.
Once you become a specialist, the price becomes irrelevant. Customer pays what you demand.
Author provided some excellent examples throughout the chapter.
A specialist paid handsomely to solve a specific problem for their target market.
Dominate a niche, then once you own it, do the same with another and then another. But never do so all at once. Doing so dilutes your message and your marketing power.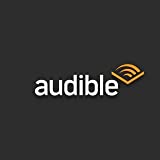 Do you know you can listen to this book on Amazon Audible for FREE?
If you are not into reading like me, then you can listen to this book for FREE on Amazon Audible
Don't Read. Just 🎧
Key Takeaways
The soal purpose of this campaign (Before phase)is to get your prospect to know you and respond to your message.

If you respond your market is everyone then it really means no one.

Being all things to all people leads to marketing failure.

The type of niches that you want to go after is "an inch wide and a mile deep.
Summary
Niche down your market and go narrow to find your target audience with a laser-like focus. Don't aim for a big market.
---
In this groundbreaking new book you'll discover:
How to get new customers, clients or patients and how to make more profit from existing ones.

Why "big business" style marketing could kill your business and strategies that actually work for small and medium-sized businesses.

How to close sales without being pushy, needy, or obnoxious while turning the tables and having prospects begging you to take their money.

A simple step-by-step process for creating your own personalized marketing plan that is literally one page. Simply follow along and fill in each of the nine squares that make up your own 1-Page Marketing Plan.

How to annihilate competitors and make yourself the only logical choice.

How to get amazing results on a small budget using the secrets of direct response marketing.

How to charge high prices for your products and services and have customers actually thank you for it.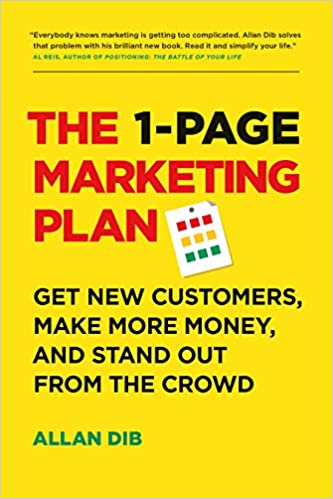 Author(s): Allan Dib
Short Blurb: "To build a successful business, you need to stop doing random acts of marketing and start following …
Read more
Buy from Amazon
---
Part 5 of 36 in the 📖 1-Page Marketing Plan book series.
Series Start | The 1-Page Marketing Plan - Day 4 | The 1-Page Marketing Plan - Day 6
---
Amazon Associates Disclaimer! 💬
As an Amazon Associate, I earn from qualifying purchases. I make a tiny commission if you buy using one of the links above at no additional cost to you. I use the money to buy another book 📖 to review or grab a beer 🍺 Super duper thanks 🙌