This post is part of the 📖 The Undefeated Marketing System series.
Today, I am reading the Introduction chapter of the brand new book The Undefeated Marketing System written by Phillip Stutts.
TL;DR! 💬
What if the key to future success lies in a simple and secret marketing approach that presidents use to get elected and startup companies to become billion-dollar unicorns? What if you could use this approach to convert customers in half the time, eliminate your financial risk, and secure huge profits?
In The Undefeated Marketing System, bestselling author Phillip Stutts shows you how his groundbreaking five-step marketing formula used by winning presidents and successful companies will also grow your business.
If you're a small business owner, entrepreneur, executive, or marketing professional determined to beat the competition in any economic environment, and this is your next must-read book.
Introduction
President George W. Bush won the 2004 election. 118,599 votes determined the course of the entire election. Talk about a close race. If only 59,300 votes had flipped from Bush to Kerry, then John Kerry would have won the presidency.
We had unlocked the secret to becoming undefeated.
In 2004, our campaign introduced analytics and consumer purchasing data into our decision-making process for the first time. We invested in a brand-new thing called "micro-targeting," which matched that basic voter file with consumer data.
Instead of just knowing people's voting tendencies, we had access to thousands of data points on an individual voter: what car they drove, what credit cards they used, what their purchasing behaviours were like, what magazines they subscribed to, and so on.
It may sound simple, but overlaying those statistics changed the entire marketing landscape. We knew, down to the last detail, what made our voters tick.
Then, once we understood what was going to get those voters riled up, we were able to micro-target them with carefully designed mailers, phone calls, and door-to-door visits.
Even in an era before social media, we figured out how to speak to them directly about the issues that mattered to them most.
Data and analytics have become the key to winning elections, and political marketers are incredibly savvy about how they use consumer data — Stutts, Phillip.
Before we ever spend any ad dollars on sending the voter to a candidate's website, we have our brand nailed down.
Why?
According to Compuware, 88% of users say that they will never return when they have a bad experience on a website. Political marketers get that. (As a business owner, do you understand how important this is?)
The 5-step Undefeated Marketing System isn't for the interested. It's for the committed.
Step 1: explaining how customer data insights and research help you determine how your target audience thinks, feels, and acts.

Step 2: allows you to build a data-backed marketing strategy that speaks directly to your customers in the most effective way, through the most effective media.

Step 3: developing messaging and creative branding.

Step 4: how to eliminate most of your marketing risk using data-backed message testing.

Step 5: walks you through the launch phase, showing you how to use your laser-focused marketing to drive sales and deliver verifiable growth for your company.
That's it for today. Tomorrow, we will read the next chapter The 5 Steps of the Undefeated Marketing System.
---
Key Takeaways
According to Compuware, 88% of users say that they will never return when they have a bad experience on a website.

Successful marketing isn't about how great your business is; it's about your ability to understand what motivates your customer.
---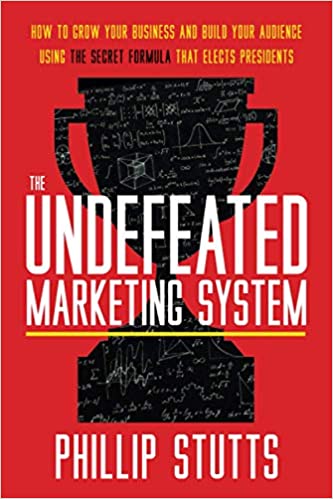 Author(s): Phillip Stutts
Short Blurb: You hate politicians. Who doesn't in today's world? But you have more in common with politicians …
Read more
Buy from Amazon
---
Part 1 of 20 in the 📖 The Undefeated Marketing System book series.
The Undefeated Marketing System - Day 2
---
Amazon Associates Disclaimer! 💬
As an Amazon Associate, I earn from qualifying purchases. I make a tiny commission if you buy using one of the links above at no additional cost to you. I use the money to buy another book 📖 to review or grab a beer 🍺 Super duper thanks 🙌