This post is part of the 📖 The Undefeated Marketing System series.
Today, I am still reading the Step 2: Build Your Data-Backed Strategic Marketing Plan chapter of the book The Undefeated Marketing System written by Phillip Stutts.
TL;DR! 💬
What if the key to future success lies in a simple and secret marketing approach that presidents use to get elected and startup companies to become billion-dollar unicorns? What if you could use this approach to convert customers in half the time, eliminate your financial risk, and secure huge profits?
In The Undefeated Marketing System, bestselling author Phillip Stutts shows you how his groundbreaking five-step marketing formula used by winning presidents and successful companies will also grow your business.
If you're a small business owner, entrepreneur, executive, or marketing professional determined to beat the competition in any economic environment, and this is your next must-read book.
Yesterday, I left in the middle reading Step 2: Build Your Data-Backed Strategic Marketing Plan chapter from The Undefeated Marketing System book.
Chapter 3
Step 2: Build Your Data-Backed Strategic Marketing Plan
Step 2 of the Undefeated Marketing System is coming up with a data-backed, unbeatable strategy. But that strategy will never be set in stone forever. Customers are always evolving, which means that your data is constantly changing.
When the data changes, your strategy needs to follow suit.
How often?
Reevaluate the customer/client data and the strategic roadmap every quarter or every 6 months.
Here's How to Build Stronger Trust with Your Customer
Your strategy will hinge entirely upon what your customer wants. Not just what you want to tell them.
Because there is 1 thing that every marketing strategy should consider, no matter who you are, what your business is, or who you're speaking to, you will need it.
That 1 thing is trust.
Every business needs its customers or clients to trust them. It sounds so obvious, but guess what? Your marketing must earn the customer's trust. You can't demand it.
You have to earn their trust by delivering a great experience and an exceptional product or service.
Here's How Strategy Is Everywhere You Look
In most cases, tactics aren't enough. You need a strategy. You need to see the big picture. You need to have a clear, data-supported plan.
Whether you're running a political campaign, growing a business, or nurturing your child, a definable game plan is the best tool you've got for eliminating risk and finding solutions that work.
Utilizing Your Marketing Tactics Is Secondary
Once you understand what motivates your customers, you can develop a plan for effectively speaking to those motivations that align with your outcomes.
And once you have a data-backed strategic marketing plan, then—and only then—you can start creating (or recreating) a brand that will move them to conversions.
That's it for today. Tomorrow, we will read a new chapter Step 3: Create Your Data-Backed Messaging and Creative Brand (or Rebrand).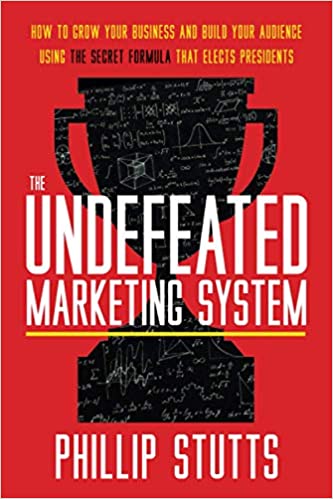 Author(s): Phillip Stutts
Short Blurb: You hate politicians. Who doesn't in today's world? But you have more in common with politicians …
Read more
Buy from Amazon
---
Part 11 of 20 in the 📖 The Undefeated Marketing System book series.
Series Start | The Undefeated Marketing System - Day 10 | The Undefeated Marketing System - Day 12
---
Amazon Associates Disclaimer! 💬
As an Amazon Associate, I earn from qualifying purchases. I make a tiny commission if you buy using one of the links above at no additional cost to you. I use the money to buy another book 📖 to review or grab a beer 🍺 Super duper thanks 🙌