This post is part of the 📖 The Undefeated Marketing System series.
Today, I am reading the Step 5: Launch Your Data-Backed Marketing Campaign chapter of the book The Undefeated Marketing System written by Phillip Stutts.
TL;DR! 💬
What if the key to future success lies in a simple and secret marketing approach that presidents use to get elected and startup companies to become billion-dollar unicorns? What if you could use this approach to convert customers in half the time, eliminate your financial risk, and secure huge profits?
In The Undefeated Marketing System, bestselling author Phillip Stutts shows you how his groundbreaking five-step marketing formula used by winning presidents and successful companies will also grow your business.
If you're a small business owner, entrepreneur, executive, or marketing professional determined to beat the competition in any economic environment, and this is your next must-read book.
Yesterday, I finished reading Step 4: Test Your Data-Backed Messaging to Prove What Will Work chapter from The Undefeated Marketing System book.
Chapter 6
Step 5: Launch Your Data-Backed Marketing Campaign
Marketers know that they've struck gold when someone watches their 30 to 60-second video ad all the way to the end.
Stop and ask yourself this question: Are you going to watch a video advertisement that's as dull as dishwater all the way to the end? No way.
No one watches a full 30- to 60-second ad unless it grabs them. So, when customers or clients would rather watch the rest of your ad than jump ahead to the video they want to see, you know your ad isn't just working. It's a home run.
The Power of a Successful Step 5 Launch
When it comes to launching an earth-shattering, wildly successful marketing campaign, luck won't cut it. If you want to be undefeated, you need a formula that's proven to work.
What Is the Lifetime Value of Your Customer/Client and What Do You Want It to Be?
You need to go into this process knowing what you want and why you want it. If you don't have a clear, achievable goal, it doesn't matter how straight your arrow is or how good a marksman you are. You'll never hit an invisible target.
To take your business to the next level, you can't just shout, "I want to grow 15×", and expect it to happen. You have to have a real plan with clear, achievable goals.
The Compound Effect
The Undefeated Marketing System isn't the get-rich-quick scheme most marketers are selling these days. It's the most efficient and reliable way to tap into the compound effect.
During the first few steps, you're making a small investment to gather data, come up with a strategy, develop your brand, and run some tests.
But before you know it, you're up to Step 5, and you're ready to launch. Because you've put in the work on the first few "holes," your growth will skyrocket faster than you expected.
That's it for today. Tomorrow, we will continue reading chapter 6, Step 5: Launch Your Data-Backed Marketing Campaign.
---
Key Takeaways
Here's the truth. No marketing is perfect; you're not going to win everything. No matter how directly your content speaks to your target audience, you're NOT going to corner 100% of the market and inspire every customer's loyalty.
---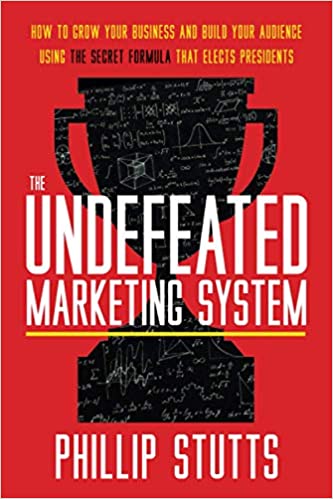 Author(s): Phillip Stutts
Short Blurb: You hate politicians. Who doesn't in today's world? But you have more in common with politicians …
Read more
Buy from Amazon
---
Part 19 of 20 in the 📖 The Undefeated Marketing System book series.
Series Start | The Undefeated Marketing System - Day 18 | The Undefeated Marketing System - Day 20
---
Amazon Associates Disclaimer! 💬
As an Amazon Associate, I earn from qualifying purchases. I make a tiny commission if you buy using one of the links above at no additional cost to you. I use the money to buy another book 📖 to review or grab a beer 🍺 Super duper thanks 🙌