This post is part of the 📖 The Undefeated Marketing System series.
Today, I am reading the The 5 Steps of the Undefeated Marketing System chapter of the brand new book The Undefeated Marketing System written by Phillip Stutts.
TL;DR! 💬
What if the key to future success lies in a simple and secret marketing approach that presidents use to get elected and startup companies to become billion-dollar unicorns? What if you could use this approach to convert customers in half the time, eliminate your financial risk, and secure huge profits?
In The Undefeated Marketing System, bestselling author Phillip Stutts shows you how his groundbreaking five-step marketing formula used by winning presidents and successful companies will also grow your business.
If you're a small business owner, entrepreneur, executive, or marketing professional determined to beat the competition in any economic environment, and this is your next must-read book.
Yesterday, I started reading the The 5 Steps of the Undefeated Marketing System chapter from The Undefeated Marketing System book.
Chapter 1
The 5 Steps of the Undefeated Marketing System
Yesterday, we finished reading Step 1: Take a Deep Dive into Your Target Market Customer/Client Data (3 to 4 Weeks)
Your first step should always be to compile what I call a Customer Insights Report.
By the end of Step 1, your goal is to know what matters to your audience and what will drive them to convert.
Step 2: Build Your Data-Backed Strategic Marketing Plan (2 Weeks)
The speed of that change makes it easy to get lost in a sea of tactics. One day, Instagram is the go-to platform, and the next day, the news is filled with mentions of TikTok.
The author says he had so many questions from business owners, like "What's better: digital ads or print media? Facebook or Instagram? Banner ads or video?"
These are the wrong questions to ask. It all depends on what motivates your customers and where they put their eyeballs. Your best bet is to be screen agnostic.
Your marketing goal shouldn't be to use as many tactics as possible to reach as many people as possible. It should be to use the right tactics to reach the right people in the right way they want to receive them.
We had to figure out how to make our client stand out. We needed to find the difference that made the difference.
That's it for today. Tomorrow, we will continue to read the same chapter The 5 Steps of the Undefeated Marketing System.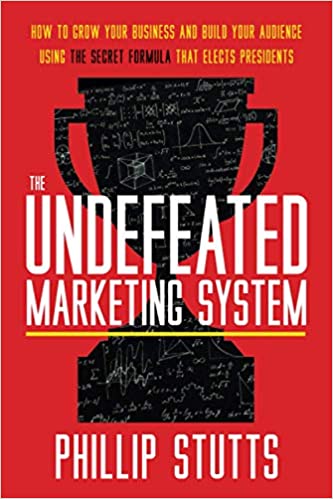 Author(s): Phillip Stutts
Short Blurb: You hate politicians. Who doesn't in today's world? But you have more in common with politicians …
Read more
Buy from Amazon
---
Part 3 of 20 in the 📖 The Undefeated Marketing System book series.
Series Start | The Undefeated Marketing System - Day 2 | The Undefeated Marketing System - Day 4
---
Amazon Associates Disclaimer! 💬
As an Amazon Associate, I earn from qualifying purchases. I make a tiny commission if you buy using one of the links above at no additional cost to you. I use the money to buy another book 📖 to review or grab a beer 🍺 Super duper thanks 🙌