This post is part of the 📖 The Undefeated Marketing System series.
Today, I am reading the The 5 Steps of the Undefeated Marketing System chapter of the brand new book The Undefeated Marketing System written by Phillip Stutts.
TL;DR! 💬
What if the key to future success lies in a simple and secret marketing approach that presidents use to get elected and startup companies to become billion-dollar unicorns? What if you could use this approach to convert customers in half the time, eliminate your financial risk, and secure huge profits?
In The Undefeated Marketing System, bestselling author Phillip Stutts shows you how his groundbreaking five-step marketing formula used by winning presidents and successful companies will also grow your business.
If you're a small business owner, entrepreneur, executive, or marketing professional determined to beat the competition in any economic environment, and this is your next must-read book.
Yesterday, I left in the middle of reading The 5 Steps of the Undefeated Marketing System chapter from The Undefeated Marketing System book.
Chapter 1
The 5 Steps of the Undefeated Marketing System
The day before yesterday, we finished reading Step 1: Take a Deep Dive into Your Target Market Customer/Client Data (3 to 4 Weeks).
Yesterday, we finished reading Step 2: Build Your Data-Backed Strategic Marketing Plan (2 Weeks).
Step 3: Create Your Data-Backed Messaging and Creative Brand (or Rebrand) (2 to 4 Weeks)
A lot of corporate marketing agencies start their client campaigns with Step 3.
They push the need for branding (or rebranding) as a way to score a huge advertising budget.
They jump straight into creating website content, videos, and graphics that cement who your business is and what you do—but it's rarely based on the message your customers want to hear.
Content creation and branding should never happen until you've got a firm grip on who your customers are, what they want, how you're going to reach them, and how that aligns with your outcome and vision.
Step 4: Test Your Data-Backed Messaging to Prove What Will Work (4 to 6 Weeks)
Every message you developed during Step 3 will work, you're right, but some of them will inevitably work better than others when running ad campaigns. And it's worth taking a few extra weeks to figure out which ones are going to send your sales through the stratosphere.
Now, when the author says "testing," he doesn't mean that you need to go all-in. Start with a small advertising budget and test various data-backed messages.
The point here is to save most of your marketing budget for launching your most successful content in Step 5.
Step 5: Launch Your Data-Based Marketing Campaign (Ongoing)
Your launch isn't a 1-time event. You'll need to constantly evaluate your results and customer data and periodically revisit the other steps to see if you can improve and optimize your ROI.
Marketing is always evolving, and so should your strategy.
Almost no one cares about your business except you. Your customers care about how your business can meet their needs. They want goods and services that will make their lives easier, better, nicer, or more efficient.
That's it for today. Tomorrow, we will read chapter 2: Step 1: Take a Deep Dive into Your Target Market Customer/ Client Data in detail.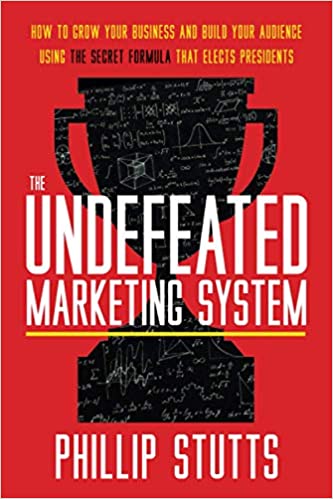 Author(s): Phillip Stutts
Short Blurb: You hate politicians. Who doesn't in today's world? But you have more in common with politicians …
Read more
Buy from Amazon
---
Part 4 of 20 in the 📖 The Undefeated Marketing System book series.
Series Start | The Undefeated Marketing System - Day 3 | The Undefeated Marketing System - Day 5
---
Amazon Associates Disclaimer! 💬
As an Amazon Associate, I earn from qualifying purchases. I make a tiny commission if you buy using one of the links above at no additional cost to you. I use the money to buy another book 📖 to review or grab a beer 🍺 Super duper thanks 🙌