This post is part of the 📖 The Undefeated Marketing System series.
Today, I continue reading the Step 1: Take a Deep Dive into Your Target Market Customer/ Client Data chapter of the brand new book The Undefeated Marketing System written by Phillip Stutts.
TL;DR! 💬
What if the key to future success lies in a simple and secret marketing approach that presidents use to get elected and startup companies to become billion-dollar unicorns? What if you could use this approach to convert customers in half the time, eliminate your financial risk, and secure huge profits?
In The Undefeated Marketing System, bestselling author Phillip Stutts shows you how his groundbreaking five-step marketing formula used by winning presidents and successful companies will also grow your business.
If you're a small business owner, entrepreneur, executive, or marketing professional determined to beat the competition in any economic environment, and this is your next must-read book.
Yesterday, I started reading How Understanding Your Customer Data Converts More Sales section from The Undefeated Marketing System book.
Chapter 2
Step 1: Take a Deep Dive into Your Target Market Customer/ Client Data
The Coming Disruption Will Hit Your Business Hard
For 12 years after the 2008 Great Recession, consumer data consistently pointed us toward 4 messaging themes with constant traction: image, excitement, pleasure, and luxury.
For example, during those 10 years, people wanted picture-perfect scenery, picture-perfect apparel—basically, picture-perfect everything. Simply put, consumers wanted other people to look at them with their higher status and feel envy.
If you were in any area of advertising, "aspirational" was the name of the game. Whether you were Uber, Coca-Cola, or Nike, you were running ads that touted pleasure.
Then COVID-19 hit.
Talk about disruption.
In a matter of weeks, Americans completely reprioritized their life values and—for the first time in 10 years—their spending habits.
The big companies figured that out immediately.
How?
They are constantly on top of the latest consumer data trends because they invest big dollars in it. They know every time their customer base breathes, much less stops spending. That's how they built billion-dollar companies.
If you want your business to grow in these unprecedented, disruptive times, that's what you have to do, too—even if you have a small marketing budget.
In essence, the top 3 messages consumers wanted to hear from any business marketing to them in March of 2020 were how their product or service helped others, created safety, and cultivated trust.
And what do you think the lowest-ranking values were? You guessed it: being in charge and directing people, being successful and admired for your achievements, and acquiring wealth, status, and influence.
To put it bluntly, consumers made a 180-degree pivot. They were no longer buying things they wanted. They were only buying things they needed.
That's it for today. This is a vast chapter, and I don't want to skip good bits, hence why I am still reading the same chapter, albeit slowly.
Tomorrow, we will read a new section, HOW DO I LOOK AT CONSUMER DATA? from the same chapter 2: Step 1: Take a Deep Dive into Your Target Market Customer/ Client Data.
---
Key Takeaways
When you don't know what your customers want or desire—when you haven't learned to empathize with them on a deep level—you're playing with fire.
Summary
Consumer preferences are constantly changing, and the next big disruptor is always on the horizon. You and your business should always be ready to stare the bull in the face—and take it by the horns.

Here's the lesson for you. When disruption hits hard, don't shy away. Figure out how your customers are changing their purchasing habits. Then commit to changing with them.
---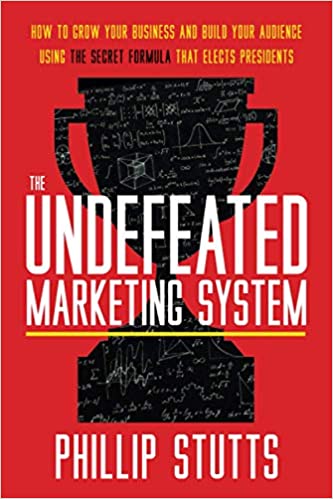 Author(s): Phillip Stutts
Short Blurb: You hate politicians. Who doesn't in today's world? But you have more in common with politicians …
Read more
Buy from Amazon
---
Part 7 of 20 in the 📖 The Undefeated Marketing System book series.
Series Start | The Undefeated Marketing System - Day 6 | The Undefeated Marketing System - Day 8
---
Amazon Associates Disclaimer! 💬
As an Amazon Associate, I earn from qualifying purchases. I make a tiny commission if you buy using one of the links above at no additional cost to you. I use the money to buy another book 📖 to review or grab a beer 🍺 Super duper thanks 🙌