This post is part of the 📖 The Undefeated Marketing System series.
Today, I continue reading the Step 1: Take a Deep Dive into Your Target Market Customer/ Client Data chapter of the brand new book The Undefeated Marketing System written by Phillip Stutts.
TL;DR! 💬
What if the key to future success lies in a simple and secret marketing approach that presidents use to get elected and startup companies to become billion-dollar unicorns? What if you could use this approach to convert customers in half the time, eliminate your financial risk, and secure huge profits?
In The Undefeated Marketing System, bestselling author Phillip Stutts shows you how his groundbreaking five-step marketing formula used by winning presidents and successful companies will also grow your business.
If you're a small business owner, entrepreneur, executive, or marketing professional determined to beat the competition in any economic environment, and this is your next must-read book.
Yesterday, I started reading The Coming Disruption Will Hit Your Business Hard section from The Undefeated Marketing System book.
Chapter 2
Step 1: Take a Deep Dive into Your Target Market Customer/ Client Data
HOW DO I LOOK AT CONSUMER DATA?
3 kinds of consumer data will help you get a clear idea about what motivates your customer.
Customer research data
Online behavioural and contextual research
Demographical data
When you put all 3 groups of information together, you'll have enough for a Customer Insights Report, which helps gauge exactly who your target customer is and what will motivate them to buy from you.
The first is consumer research databases. These reveal how and why people make the buying decisions they do.
For example, your customers may gravitate toward websites with free shipping. When they realize they'll have to pay an extra $15.99 to FedEx the item to themselves, they abandon their cart. Consumer research databases might help you figure out what's keeping them from pulling the "buy" trigger.
The second kind of data focuses on online behavioural and contextual research.
How are people using their devices? What keywords are they searching for, and how do they operate online? Do they use Instagram more than LinkedIn, or do they rely on social media or e-commerce platforms to make purchases?
Thirdly, demographic data can tell you a lot about the life experiences and values of your customers.
Don't just look at age and gender. Consider aspects like household income, education, and marital status etc.
You'd be surprised at how often marketers employ a "one-size-fits-all" marketing strategy for their clients. They get so caught up in creating content, branding, and selling your business that they forget that marketing isn't really about your business at all.
Marketing is about tapping into what makes your customers tick.
Don't Refuse the Map
Understanding your customer or ideal target market is critical, and consumer data is your map. It helps you find your way and make sure your business is always on track.
We all know that maps are useful, but according to marketing legend Seth Godin, "Sometimes, when we're lost, we refuse a map, even when offered because the map reminds us that we made a mistake. That we were wrong."
Don't refuse the map. Without it, you're not only wrong; you will remain lost.
It's not worth it to stick with a behind-the-times, inadequate approach to understanding your customers and clients, even if it seems to be working in the short run.
That's it for today. We finished Step 1: Take a Deep Dive into Your Target Market Customer/ Client Data chapter.
Tomorrow, we will read a brand new chapter Step 2: Build Your Data-Backed Strategic Marketing Plan.
---
Key Takeaways
If you want your business to flourish, you must be both relevant and unique to the customer—from their perspective, not yours.
Summary
Do some research and commit to a data-backed approach before you spend another dollar on marketing.
---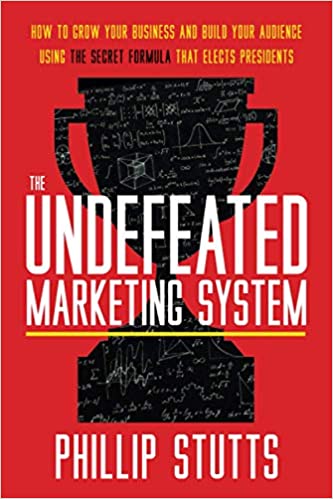 Author(s): Phillip Stutts
Short Blurb: You hate politicians. Who doesn't in today's world? But you have more in common with politicians …
Read more
Buy from Amazon
---
Part 8 of 20 in the 📖 The Undefeated Marketing System book series.
Series Start | The Undefeated Marketing System - Day 7 | The Undefeated Marketing System - Day 9
---
Amazon Associates Disclaimer! 💬
As an Amazon Associate, I earn from qualifying purchases. I make a tiny commission if you buy using one of the links above at no additional cost to you. I use the money to buy another book 📖 to review or grab a beer 🍺 Super duper thanks 🙌