This post is part of the 📖 The Undefeated Marketing System series.
Today, I am reading the Step 2: Build Your Data-Backed Strategic Marketing Plan chapter of the book The Undefeated Marketing System written by Phillip Stutts.
TL;DR! 💬
What if the key to future success lies in a simple and secret marketing approach that presidents use to get elected and startup companies to become billion-dollar unicorns? What if you could use this approach to convert customers in half the time, eliminate your financial risk, and secure huge profits?
In The Undefeated Marketing System, bestselling author Phillip Stutts shows you how his groundbreaking five-step marketing formula used by winning presidents and successful companies will also grow your business.
If you're a small business owner, entrepreneur, executive, or marketing professional determined to beat the competition in any economic environment, and this is your next must-read book.
Yesterday, I finished reading HOW DO I LOOK AT CONSUMER DATA? section from The Undefeated Marketing System book.
Chapter 3
Step 2: Build Your Data-Backed Strategic Marketing Plan
Once you've developed a clear understanding of your customers or clients, you must implement Step 2 and build a marketing strategy that effectively speaks to your customers or clients.
Build Your Strategy around Your Outcomes and Your Customers' Values and Motivations
If you don't understand your audience's core motivations, you won't reach them effectively.
Once you had a clear, data-driven understanding of your target investor market (Step 1), your next step was creating a solid strategy that would make them take action (Step 2)
You can't come up with a strategy that works if you have no idea what your customer wants, values, and needs.
Your strategy should consider the following elements:
What platforms your audience uses
What language appeals to your audience
Which values your clients and customers care most about
What media platform your customers spend the most time consuming, and what will most effectively move them to conversion
Your timeline to accomplish your outcomes
Your budget to spend and the corresponding ROI multiple
That's it for today. Tomorrow, we will continue to read the same chapter Step 2: Build Your Data-Backed Strategic Marketing Plan.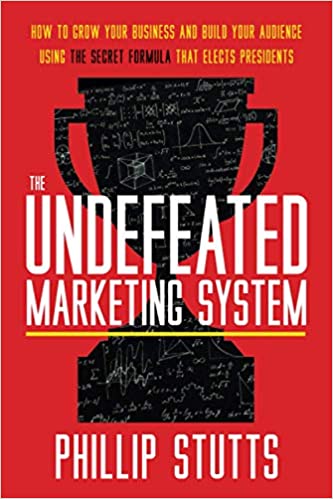 Author(s): Phillip Stutts
Short Blurb: You hate politicians. Who doesn't in today's world? But you have more in common with politicians …
Read more
Buy from Amazon
---
Part 9 of 20 in the 📖 The Undefeated Marketing System book series.
Series Start | The Undefeated Marketing System - Day 8 | The Undefeated Marketing System - Day 10
---
Amazon Associates Disclaimer! 💬
As an Amazon Associate, I earn from qualifying purchases. I make a tiny commission if you buy using one of the links above at no additional cost to you. I use the money to buy another book 📖 to review or grab a beer 🍺 Super duper thanks 🙌