This post is part of the 📖 Your First 100 series.
Today I am reading second chapter of the book Your First 100: How to Get Your First 100 Repeat Customers (and Loyal, Raving Fans) Buying Your Digital Products Without Sleazy Marketing or Selling Your Soul written by Author, Meera Kothand.
TL;DR! 💬
What if you had a pool of repeat customers and loyal, raving fans waiting to buy EVERY SINGLE ONE of your digital products?
What if you never had to chase or wonder where the next sale of your digital product is going to come from?
What if you knew exactly how to turn first time visitors into subscribers and then loyal customers who stay and buy again and again and again?
The Book Your First 100: How to Get Your First 100 Repeat Customers will allow you to discover how to take the brand and business you have right now and transform it into one that has the potential to build repeat customers and loyal, raving fans..
Yesterday, I started to read STACK YOUR VALUE LADDER section from the book Your First 100.
Up to now, we understand that just like a brick and mortar business, your online business has several points of interaction with your audience. These brand interactions are called touchpoints.
We understand there will be 5 touchpoints and as well as 5 core areas which anchor and impact your touchpoints.
Touch points:
Pre-Touch Point
Premier (First) TouchPoint
Pivotal TouchPoint
Prime TouchPoint
Post TouchPoint
Core areas:
Brand
Content
Email Marketing
Digital Products (and Offers)
Selling Practices

SECTION 4
How Your Digital Products (and offers) Can Pave the Way for Your First 100 Repeat Customers and Loyal, Raving Fans
Harvard marketing professor Theodore Levitt said: "People don't want to buy a quarter-inch drill. They want a quarter-inch hole."
People buy things because they solve a problem. Look at your offer through your customer's eyes.
Do they immediately understand how your product makes their lives easier? They're not buying the drill.
They're buying the hole that helps them convert that dingy basement into an additional storage space.
So always start with what your ideal customer wants to buy to fit their needs, not what you want to sell.
The most common underlying drivers behind why people buy are
To save or make money
To save time
To increase emotional benefit/feel better
To ease pain, suffering, or negative emotions
The outcome or promise of the offer should get them to sit up and take notice. It should disrupt their attention and push your offer from a "nice to have" to a "must-have."
HOW TO CREATE LESS BUYING RESISTANCE
For that new fan or subscriber to buy, you need to create a painless, low-risk offer.
These low risk, micro-commitments are called loss leaders or tripwires. These are small-ticket items that you usually offer your subscriber upon opt-in or early on in your email sequence.
The idea isn't to profit from that product but to quickly turn a subscriber into a buyer. Because people are more likely to open their wallets and purses for you a second time if they've already crossed that first sale hurdle.
Look for more opportunities where you can get readers and subscribers to experience your paid content. Because once they do and they enjoy it, they will most likely buy from you again.
That's it for today. Tomorrow, we will read "CREATE A PRODUCT ECOSYSTEM" part from the same section.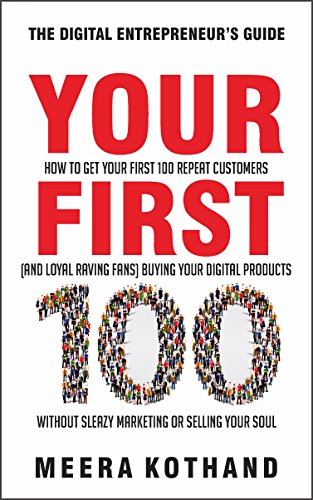 Author(s): Meera Kothand
Short Blurb: What if you had a pool of repeat customers and loyal, raving fans waiting to buy EVERY SINGLE ONE of …
Read more
Buy from Amazon
---
Part 11 of 16 in the 📖 Your First 100 book series.
Series Start | Your First 100: How to Get Your First 100 Repeat Customers - Day 10 | Your First 100: How to Get Your First 100 Repeat Customers - Day 12
---
Amazon Associates Disclaimer! 💬
As an Amazon Associate, I earn from qualifying purchases. I make a tiny commission if you buy using one of the links above at no additional cost to you. I use the money to buy another book 📖 to review or grab a beer 🍺 Super duper thanks 🙌